91104 AquaForce PRO 4000-8000 Solids Handling Pump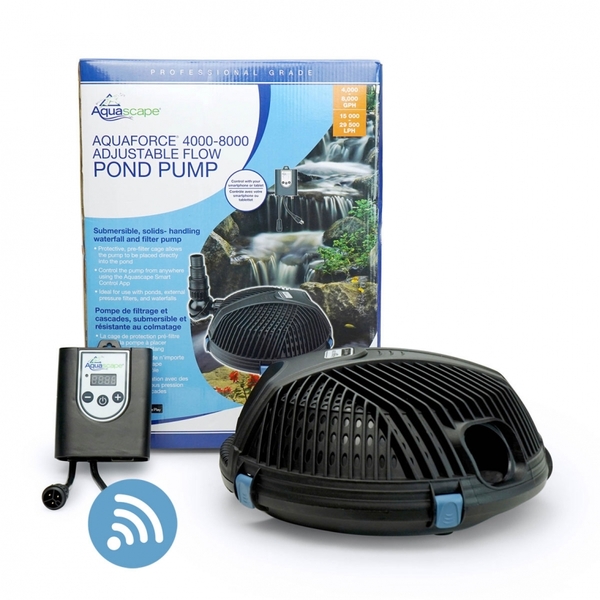 Description
Adjustable flow, submersible, solids-handling waterfall and filter pump (adjustable from 4000 to 8000 GPH)
The AquaForceŽ PRO asynchronous solids-handling waterfall and filter pump accomplish what most other pumps only aspire to achieve. The combination of energy-efficient performance, flow and ease of maintenance make this pump the ideal choice for discriminating pond owners. The AquaForceŽ PRO features the same protective pre-filter cage as our standard AquaForceŽ, along with the ability to pump solids up to one quarter of an inch. AquaForceŽ PRO's unique design allows you to adjust the pump flow rate; and, thanks to the included remote, it can also be turned on or off from a distance.
Allows you to customize and fine-tune the flow of waterfalls and streams
Pump can be turned on or off with remote
Ability to adjust the flow makes it easy to select the right pump for any application
Each remote and receiver are paired together with a unique frequency
Extremely energy-efficient, saving hundreds of dollars over traditional water pumps
Asynchronous motor technology provides high torque, trouble-free performance at higher head heights
Durable prefilter cage design prevents clogging and reduces pump maintenance
Oil-free design prevents pond contamination
The AquaForce 4000-8000 Adjustable Flow Pond Pump provides flow-rates up to 7,793 gallons per hour.
Included remote and receiver allows the user to customize the look and sound of their water feature at any time, turning the water flow up and down as well as on or off.
Ideal for use with ponds, external pressure filters, and waterfalls
Protective cage allows the pump to be placed directly into the pond
Extremely energy-efficient, saving hundreds of dollars
Comes complete with fittings for quick and easy installation.
Specs
91104 SPECS:
- Max Flow Rate: 7793 gph
- Max Head Height: 28 ft
- Motor Type: Asynchronous
- Wattage: 500-660
- Amps: 5.5
- Cord Length: 20 ft
- Discharge: 1.5"
Size: 14"L x 14"W x 6.5"H
Weight: 16.5 lbs.
Submersible, adjustable flow pond and external filter pump providing flow rates up to 7,793 GPH/ 29 499 LPH
Designed to be placed directly into the pond without pre-filtration
Energy-efficient, asynchronous motor design provides superior reliability
Includes Smart Control Receiver for quick and easy pump control using the Aquascape Smart Control App or on-board controls
Backed by a 3-Year Limited Warranty
Asynchronous motor technology provides superior reliability and longevity
Protective pre-filter cage allows the pump to be placed directly into the pond
Durable pump housing is built to last and will not corrode or rust
Threaded 1.5″ outlet allows for quick and easy installation in a variety of applications
Rubber feet prevent noise and vibration while in use
Included receiver provides controls for quick and easy on-board flow control
Included receiver provides integrated control panel display current flow settings
Included receiver provides durable, weather-resistant housing
Aquascape Smart Control App allows for a variety of wireless control functions, including flow adjustment and customized scheduling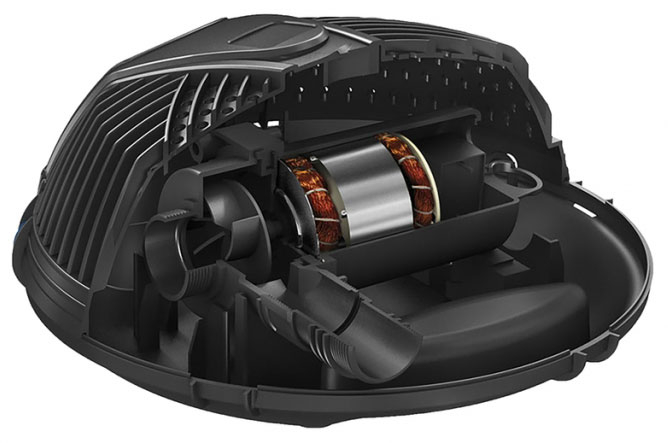 PDFs & Videos
Reviews
---