Description
SLUDGE & MUCK REMOVER
Especially formulated for rock and gravel bottom ponds!
Removes toxic fish waste, left over food and deadly gases that build up under the rocks and in the gravel of your koi pond
100% NATURAL Pond Bacteria NO HARSH CHEMICALS
Reduces pond water odors and yellowing, improves water quality and clarity
Safe for pets, filters, plants and wildlife
Aqua Meds Sludge & Muck Remover
Specially formulated for rock and gravel bottom ponds!
Professional Strength, Concentrated Beneficial Bacteria
Removes toxic fish waste, leftover food and deadly gases that build up under the rocks and in the gravel of your koi pond. A big cause of pond water and fish health problems
100% NATURAL Pond Bacteria NO HARSH CHEMICALS
Save $$$ only takes ounce per 1,000 gallons every two weeks
Also works very well in ponds without gravel bottoms
Digest leaves, bird droppings and removes sludge and muck
Removes algae-causing phosphorus
Reduces pond water odors and yellowing, improves water quality and clarity
Safe for pets, filters, plants, and wildlife
One pound treats 16,000 gallons!
Treats a 2,000 gal. pond for 4 MONTHS!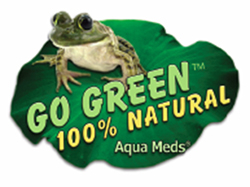 Two pounds treats 32,000 gallons!
Treats a 3,000 gal. pond for 5 MONTHS!
Specs
Sludge Remover Precautions
Please remember, Aqua Meds® Sludge Remover is 100% natural. Products like water conditioners, Aqua Prazi, Medi-Koi, Buff-it-Up or "probiotic" products will not harm Aqua Meds Sludge Remover.
Products that contain antibiotics or chemicals such as Formalin, potassium permanganate or others will set back the Aqua Meds® Sludge Remover in your pond.
After using antibiotics or chemicals do a partial pond water change and add carbon to your filter for 24 hours if possible. Wait another 24 hours, remove the carbon, then, triple the ""maintenance dosage" for the next two weeks.
Sludge Remover Instructions
Determine your pond water capacity
If applicable turn off UV sterilizer for 48 hours after application
For the first application for the season mix two ounces (2 scoops)of Sludge Remover per 1,000 gallons in a bucket with several gallons of pond water.
Disperse mixture into areas of the pond with adequate circulation
Reapply one ounce (1 scoop) per 1,000 gallons every other week
Maintain sufficient aeration during treatment
Discontinue use when water temperature drops below 50 degrees F (10 degrees C)
Note: One "scoop" equals one ounce. If you have a pond smaller than 1,000 here's the dosage:
1/4 scoop will treat 250 gallons
1/2 scoop will treat 500 gallons
3/4 scoop will treat 750 gallons
Do not worry about over dozing, Aqua Meds Sludge Remover is 100% natural.
Reviews
---