Atlantic 316 Stainless Steel Spillways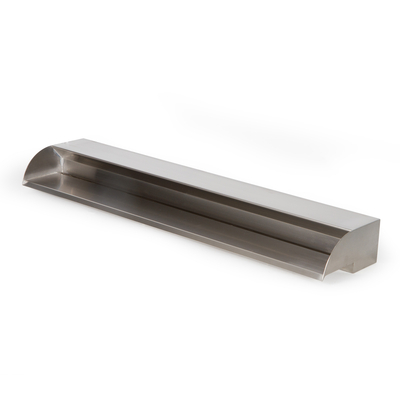 Description
316 Stainless Steel Spillways enhance any vertical wall in the poolscapes, hardscapes and wherever chlorine is used as a disinfecting agent.
Modular design and convenient 4-inch height make Spillways ideal for garden wall block construction.
Readily adaptable to any vertical wall installation
Built of heavy-guage 316 stainless steel for durability you can count on under the harshest conditions.
Structural load bearing design allows for burial in masonry walls
Non-cloggin weir for open water basin installatins and decreased maintenance.
Specs
12 Inch Spillway
Model: SS12-316
Description: 12" 316 Stainless Steel Spillway
Flow Rate: 1,200 gph
Projection: 9-10" at 18"H & 1,200 gph
Inlet: 1½" FIPT
Warranty: 3 year
Dimensions: 12"W x 8½"D x 4"H
24 Inch Spillway
Model: SS24-316
Description: 24" 316 Stainless Steel Spillway
Flow Rate: 2,400 gph
Projection: 9-10" at 18"H & 2,400 gph
Inlet: 1½" FIPT
Warranty: 3 year
Dimensions: 24"W x 8½"D x 4"H
36 Inch Spillway
Model: SS36-316
Description: 36" 316 Stainless Steel Spillway
Flow Rate: 3,600 gph
Projection: 9-10" at 18"H & 3,600 gph
Inlet: 1½" FIPT
Warranty: 3 year
Dimensions: 36"W x 8½"D x 4"H
PDFs & Videos

Product Manual
Reviews
---