Crystal Clear OneFix CC021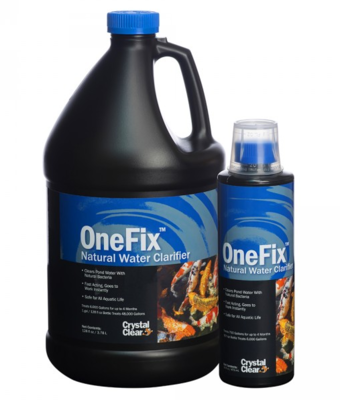 Description
Natural Water Clarifier
Clears Pond Water with Natural Bacteria
Fast-Acting, Goes to Work Instantly
Safe for All Aquatic Life
CrystalClear® OneFix™ utilizes natural bacteria to digest suspended dead organics to help keep the pond balanced and the water crystal clear. OneFix™ is specifically designed to start working the second it hits the water. Use once every two weeks when water temperatures are above 50°F.
Use 1 fl oz of OneFix™ for every 375 Gallons.
CC021-16: 16 oz
CC021-32: 32 oz
CC021-64: 64 oz
CC021-1G: 1 Gal.
Specs

CrystalClear® OneFix™ Dosage Rates


Pond Size

(In Gallons)


OneFix™

(As Needed, Once Every 2 Weeks)


Up To 375 Gallons


1 Ounce


Up To 750 Gallons


2 Ounces


Up To 1,500 Gallons


4 Ounces


Up To 3,000 Gallons


8 Ounces

Routine Application Rate
Apply OneFix™ every two weeks. For initial treatment of a new pond, double the application to seed your pond filter quickly.
Persistent Problem Application Rate
If a problem arises between routine applications apply OneFix™ at the prescribed rate every 3 days until pond becomes clear
For Best Results
Apply OneFix™ directly into filter if possible or apply directly to the pond in an area of the greatest circulation. Optimal Water Conditions: pH: 6.5-8.5, Dissolved Oxygen: 5 PPM.
Product Notices
Do not use other chemicals while treating with OneFix™.
PDFs & Videos
Reviews
---