Evolution Aqua K+ Advanced Filters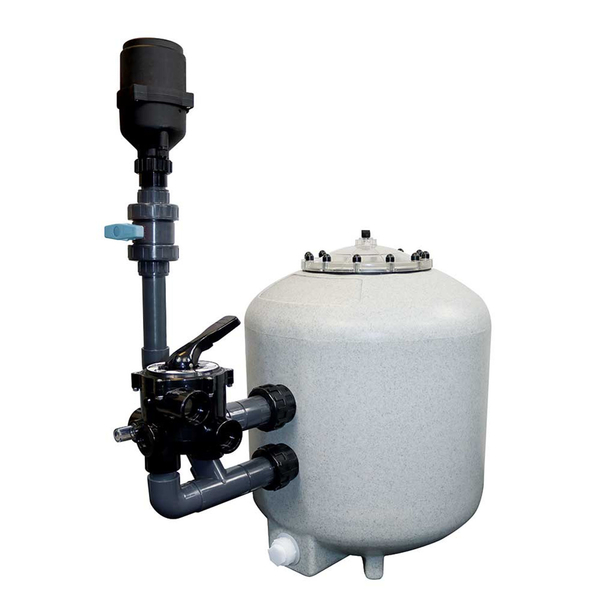 Description
Evolution Aqua K+ Advanced Pressure Filters were engineered to be more efficient than traditional bead filters and to take less time to establish the microorganisms necessary for good filtration. Filters arrive prefilled with K+ Media whose special shape offers class-leading surface area. To quickly establish biological filtration and good bacteria growth on the media, the exterior is specially coated in minerals. Offered in 4 sizes to fit almost any pond. A great option for large koi ponds where heavy filtration is needed.
• Simple to Install, Operate, and Maintain
• Air Blower, Pipework, and Valve Included
• Air Blower Improves Cleaning Process of Filter

The filter is operated by a multiport valve with six settings. The easy-to-operate backwash and rinse feature allows for easy cleaning of the K+ Media and removal of waste, debris, and dead bacteria. The air blower helps to agitate the media and loosen waste during the rinse cycle. Many pressurized filters on the market do not include an air blower which is a beneficial feature and improves the cleaning process. K+ Advanced filters come with all the pipework needed to connect the valve assembly and blower to your filter. Some of the pipework is preassembled. It's recommended to dry-fit the parts together before adding PVC glue.
Specs
| | | | | |
| --- | --- | --- | --- | --- |
| Application | Out of Pond | Out of Pond | Out of Pond | Out of Pond |
| Maximum Pond Size | 4,800 Gallons | 9,600 Gallons | 14,500 Gallons | 24,000 Gallons |
| Optimum Flow Rate | 1,600-2,000 GPH | 3,200-4,000 GPH | 4,800-6,000 GPH | 6,000-7,000 GPH |
| Media | Pre-Filled | Pre-Filled | Pre-Filled | Pre-Filled |
| Quantity of K+ Media Included* | 1.77 cu ft/50 Liters | 3.53 cu ft/100 Liters | 5.28 cu ft/150 Liters | 8.83 cu ft/250 Liters |
| Diameter | 20" | 24" | 30" | 36" |
| Multiport Valve/Tubing Size | 1.5" | 2" | 2" | 2" |
| Includes UV Filtration | No | No | No | No |
| Color | Granite Grey | Granite Grey | Granite Grey | Granite Grey |
| Warranty | 2-Year | 2-Year | 2-Year | 2-Year |
PDFs & Videos

PRODUCT MANUAL
Reviews
---