FiltoClear 4000 Press. Filter 24 watt UV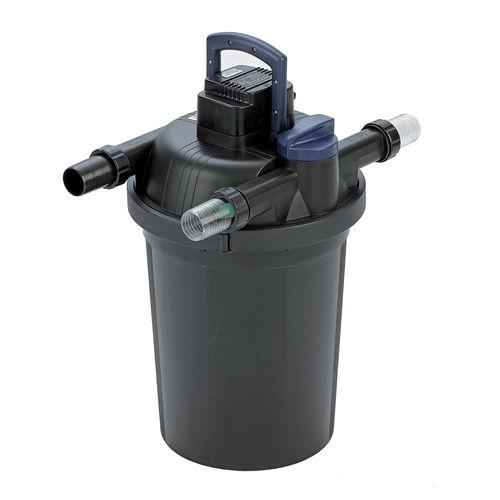 Description
The FiltoClear pressure filter is a compact all-in-one pond filtration system with the fastest and most convenient cleaning mechanism on the market.
FiltoClear systems include a built-in UV clarifier with bypass for optimal efficiency at low power usage.
The built-in cleaning mechanism makes filter maintenance possible in a matter of minutes.
 FiltoClear systems can be installed unobtrusively by burying most of the filter below ground.
Specs
Effective Pond Size: up to 4000 gal. (without fish)
UV-Clarifier Wattage: 24W
Max. Pump Capacity: 3000 GPH
Max. Input Pressure: 7.25 psi (17 ft.)
Intake Connection: 2 in. threaded, male
Outlet Connection: 2 in. threaded, male
Tubing Connector: 1 1/2 in., 2 in. and Schedule 40 (3x)
Power Cable Length: 15 ft.
Power Consumption: 30W
Power Requirement: 110-120V / 60Hz
Regulatory Listing: MET (Canada, US)
Dimensions (Dia x H): 15 x 25 in.
Limited Warranty: 2 Years
PDFs & Videos
Reviews
---