Description
Breathe life into your pond ! Improve fish health. Reduce algae growth and sludge build up.
De-ice to prevent winter fish kill.
Applications: Aquaculture, Small Koi Pond.
High efficiency
Simple maintenance. Completely oil-free.
Silent operation. Long life expectancy
Specs
Specs: 0.34CFM ~5/32 inch x 30ft, ~ID 4 mm x 9m
CONTENTS:
MEA Pro Mini 2000
2 Check Valves
2 Diffuser Disc's MD-3W (3.5" dia.)
2 Rolls Air Hose 5/32" x 30 ft.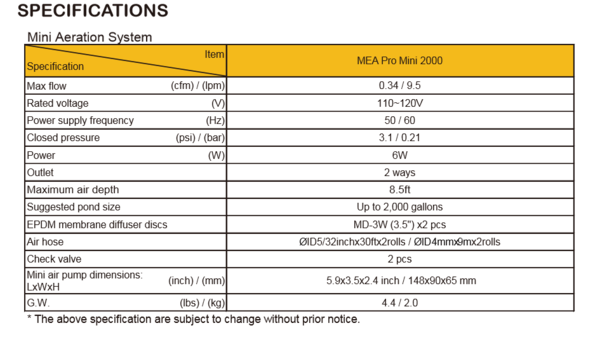 PDFs & Videos
Reviews
---