Description
AquaMax Eco pump innovation sets the new standard for pond pump technology, even at the entry level.
With an AquaMax Eco Classic pump you can upgrade your pond to use the latest in pond pump motor technology, resulting in a whopping 40% reduction in energy usage over similar pumps.
And that's not all: built-in thermal overload and frost protection ensure that your AquaMax will run for years; solids-handling ability means fewer clogs and better water quaility, and the included accessories allow you to setup your filter system without multiple trips to the hardware store for that "one, last fitting."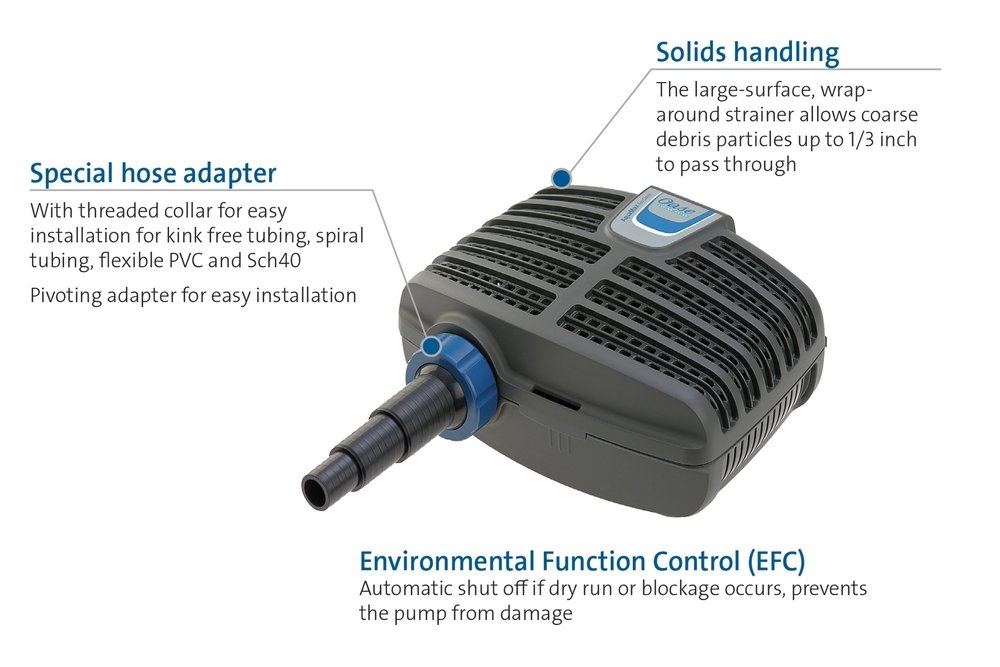 Specs
OAS40347:
Max. Flow Rate: 1200 gph
Max. Head Height: 8 ft.
Outlet Connection: 2 in. (threaded)
Tubing Connector: 1 in., 1 1/4 in., 1 1/2 in.
Power Cable Length: 20 ft.
Power Consumption: 45W
Power Requirements: 110-120V / 60Hz
Regulatory Listing: MET (Canada, US)
Dimensions (LxWxH): 11 x 9 x 5.5 in.
Limited Warranty: 2 Years
The energy-efficient heart of any pond
The AquaMax Eco Classic is the energy-efficient heart of your pond filtration system.
Solids-handling pump is encased in a pre-filter pumps pond water and coarse debris particles up to 1/3 in. in size.
With its organic design, the AquaMax Eco Classic Pump can be easily integrated into your pond or waterfall design.
AquaMax Eco Classic series has a 20 ft. power cord.
Extremely economical with an energy efficient motor that saves power and effectively reduces operating costs.
Environmental Function Control feature (EFC) shuts off the pump in the event of a dry run or blockage to stop the pump from damaging itself.
Grounding plate provides unparalleled protection against electrical hazards in your pond.
With adaptors for all applications, the AquaMax Eco Classic is easily installed with kink free tubing, spiral tubing, flexible PVC tubing, or Sch40 piping.
For best results and clear water guaranteed, use with an appropriately sized OASE pond filter and UV clarifier.
When properly sized, paired, and registered online, this product qualifies for the Clear Water Guarantee.
Included 2 year warranty + 1 with online registration
PDFs & Videos
Reviews
---