Description
Smaller power cord plug size allow for pumps to be placed discretely throughout a pond
Energy efficient motor saves power – and money – in operation
Epoxy encapsulated, fully submersible
Ceramic shaft and bearings
Adjustable flow control fine-tunes the flow rate and pumping height
Elegant design with cleaver operating elements
Grounding plate provides unparalleled protection against electrical hazards in your pond
OASE Pond Pumps are quiet, discreet and effective in creating efficient water movement in multiple pond zones.
They create water circulation throughout the pond, enabling aeration that nurtures beautiful water gardens and healthy aquatic life.
They guard against algae growth and mosquito reproduction by creating movement of the water throughout the pond.
Adjustable flow controls enable flexibility over the flow rate, creating the perfect amount of aeration.
Pond Pump design allows for quick and easy access to all moving parts. The pond pump is energy efficient, and its smaller power cord plug size allows for easy setup. Power cable length is 20 feet on all models.
A grounding plate ensures that any electrical leakage from the pond's power source exits the pond through the grounding wire. This added measure of protection exceeds all electric safety standards.
The filter intake surface is 15 cm2.
Hose connection and outlet size on all models is ¾ in. (19mm).
The coarse debris displacement maximum is .08 inches (2mm).
Epoxy encapsulation allows for full submergence.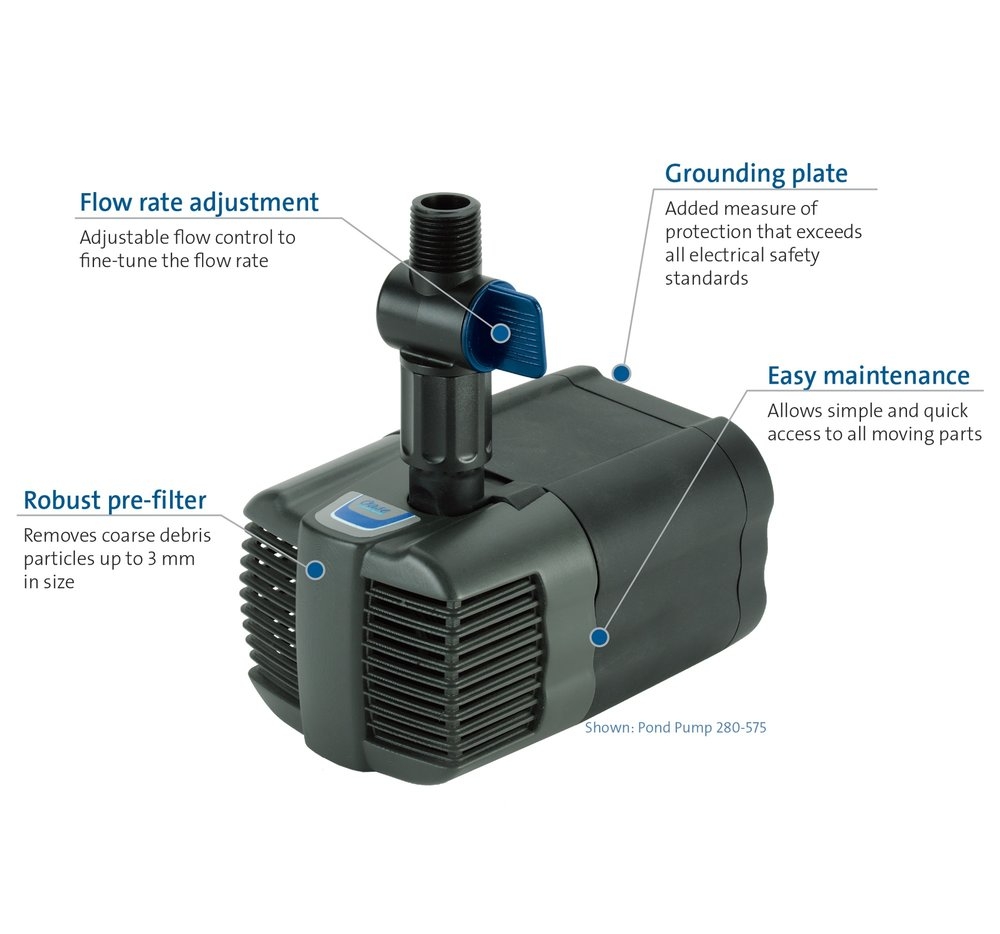 Specs
45418: 280
Max Flow: 280gph
Max Head: 7.8 ft.
Watts: 27
Dimensions: 5.2" x 4" x 6.41"
Cord: 16 ft.
Outlet size: 3/4"
PDFs & Videos

45418-45419-45420-manual.pdf
Reviews
---