Description
Sequence® Power Primer Series
Accelerate your system with another self priming high speed power series configuration. If you have application requiring self priming, immense flow, and high head pressure capabilities, this series is the solution for you. The Sequence® Power series is made for those demanding applications where the constraint for high pressure is not subject to negotiation!
Special features include an internal diffuser to allow for displacement of trapped air. This type of pump will continue to move water even when there is some air in the line.
The integrated strainer basket on all primer units helps protect the internal rotating parts of the pump from damage due to external debris being pulled into the pump. The simple cover allows for quick cleaning.
Specs
Model
6300PRM77
INLET
2"
DISCHARGE
2"
MAX FLOW
(gph)
6300
MAX HEAD
(feet)
77'
MAX POWER
(watts)
1496
MAX CURRENT
(amps)
8.7
@
(volts)
230
MOTOR HP
1.5, 2
MOTOR ENCLOSURE
ODP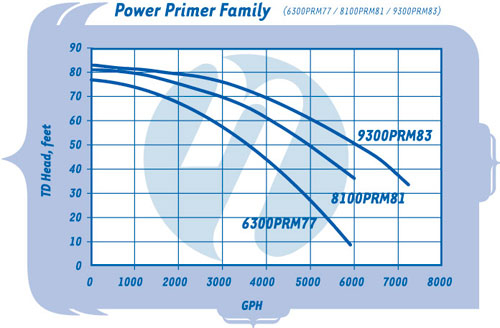 PDFs & Videos
Reviews
---