Description
NORUS Series
The ShinMaywa Norus Series submersible pumps are some of the most reliable and durable pumps sold today. On the outside it has a unique corrosion resistant hardware design made of stainless steel and poly amide fiber reinforced resin. In addition, it features a cast aluminum bearing housing, and a vibration reducing bearing design which provides superior heat dissipation and structural integrity in comparison to competing pumps.
The Norus series pumps are the most reliable, highest efficiency, lowest lifetime cost of any pump in its class.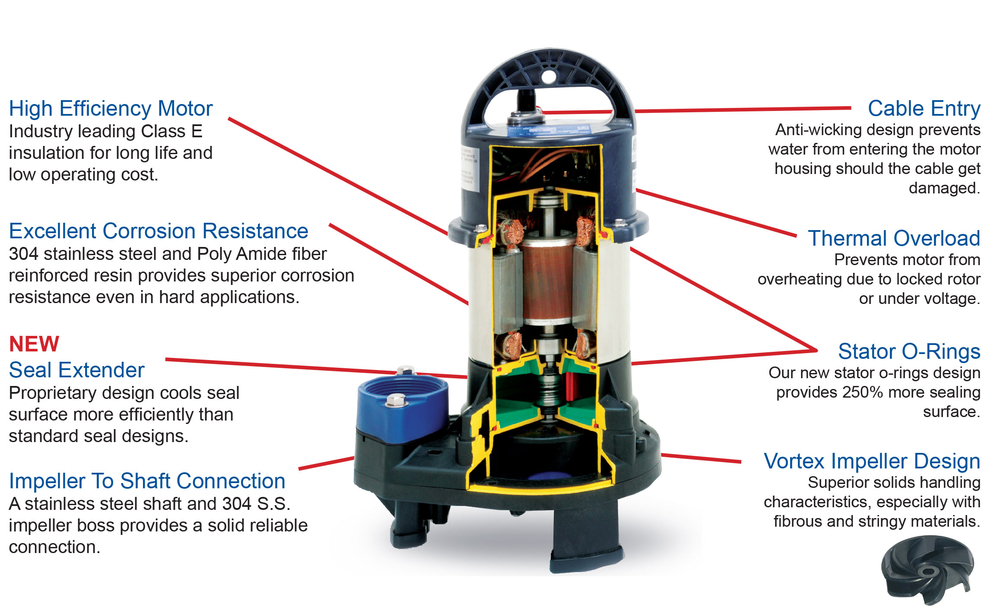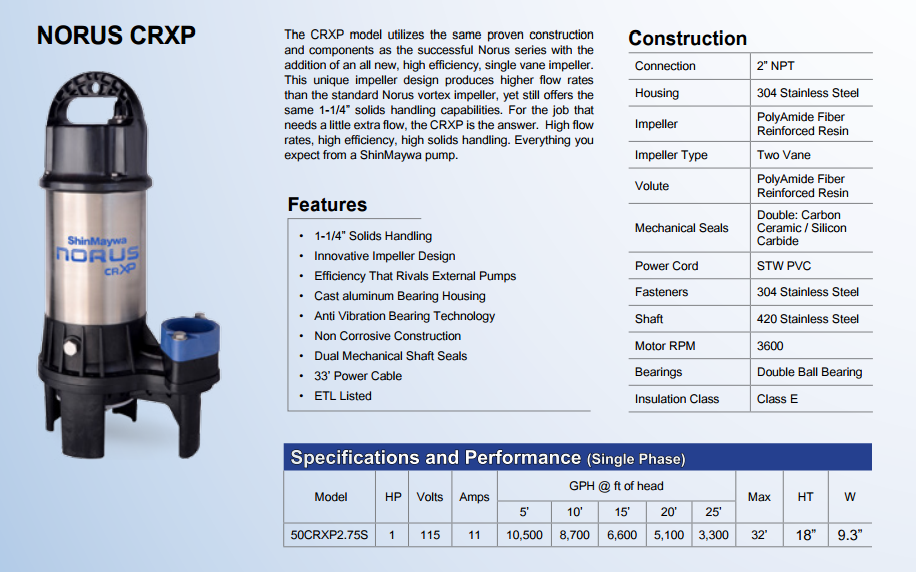 Specs
2" Discharge
115 Volt Single Phase Motors
1-1/4" Solids Handling
Cast Aluminum Bearing Housing
Anti Vibration Bearing Technology
Dual Mechanical Shaft Seals: Silicon Carbide Lower, Carbon Ceramic Upper
33' Power Cable (20' on 1/5 HP)
ETL Listed
Continuous Duty
High Efficiency
Corrosion Resistant
2 Year Warranty
SHN01 50CR2.15S -3300gph
1/5 HP ~ 3.0 amps ~ 19 ft shut off
SHN02 50CR2.25S -4800gph
1/3 HP ~ 4.4 amps ~ 28 ft shut off
SHN03 50CR2.4S -5700gph
1/2 HP ~ 5.5 amps ~ 36 ft shut off
SHN04 50CR2.75S -7000gph
1 HP ~ 10.0 amps ~ 48 ft shut off
SHN05 50CR2.75S-2 -7000gph
2 HP, 230 Volt ~ 10.0 amps 48 ft shut off
230V is easier on the motor, thus enhancing longevity.
SHN11 50CRxp2.75S -10,000gph
1 HP ~ 11 amps ~ 34 ft shut off

PDFs & Videos
Reviews
---