Description
Smart Pond Thermometer With Transformer
Give yourself peace of mind by monitoring pond temperature throughout the year with the Aquascape Smart Pond Thermometer. This specially designed pond thermometer is easy to connect to your smartphone or tablet, allowing you to easily check the temperature of your pond or water feature using the Aquascape Smart Control App. Use the immediate and accurate temperature data to adjust fish feeding schedules, change water treatments, and more. The device also includes an integrated display panel for monitoring temperature without the use of a tablet or smartphone. Connecting to the Aquascape Smart Control App is quick and easy and allows you to create dynamic triggers signaling other smart devices in your pond to react based on the temperature of your water.
The durable, spherical design is weighted to sink and built to last in all weather conditions, capturing temperatures between -20°F and 120°F (-28°C and 48°C). The device integrates easily with other 12-volt quick-connect components and existing low-voltage lighting systems using the included quick-connect fitting. The Smart Pond Thermometer is compatible with iPhone and Android operating systems and adequate wireless coverage is required (2.4 GHz supported). The Smart Pond Thermometer is backed by a 3-year limited warranty to ensure years of reliable use.
Available Models:
Smart Pond Thermometer (74012)
Smart Pond Thermometer with Transformer (74013)
Control panel size: 4.5"L x 1.75"W x .75"H
Probe size: 1.75" Diameter
Control Aquascape Water Features with Your Smartphone or Tablet
The Aquascape Smart Control App makes it easy to connect and control devices on your smartphone or tablet, providing a variety of wireless control functions, including flow adjustment and customized scheduling.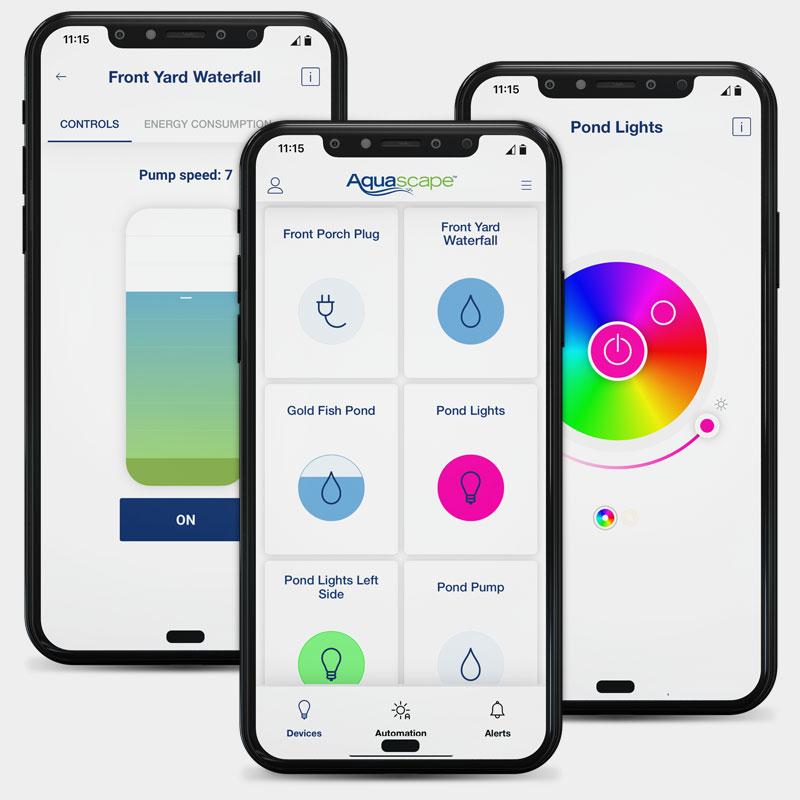 Specs
Monitor pond temperature from anywhere using the Aquascape Smart Control App
Integrated display panel for monitoring without a smartphone or tablet
Connect to the app for automation triggers, historical data, trending reports, and educational notifications
12-volt transformer required
Backed by a 3-year limited warranty
Control panel size: 4.5"L x 1.75"W x .75"H
Probe size: 1.75" Diameter
Power Cord Length - 3 feet
Probe Cord Length - 20 feet
Wattage - 1W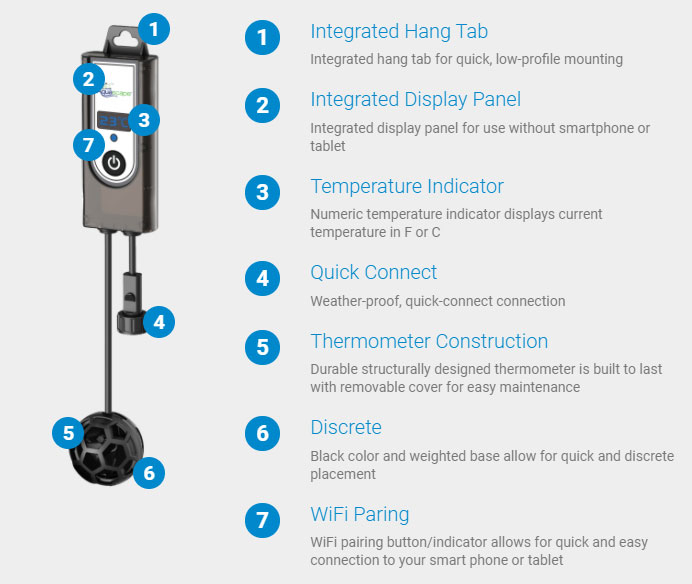 PDFs & Videos
Reviews
---